RTX800-TR
Eight-bay SAS/SATA RAID tower with dual Thunderbolt™ connections
Ideal for video editing, high throughput visualization and simulation
Up to 32TB can be stored in easy access TrayFree™ Bays
10Gbps Thunderbolt Technology for ultimate in SAS/SATA performance
RTX800-TR
The CRU® RTX800-TR Thunderbolt™ portable RAID tower offers 10 Gbps performance with a dual Thunderbolt interface. The RTX800-TR houses eight 3.5″ SAS or SATA hard drives, providing up to 32TB of storage for video editing, visualization, simulation, high-capacity storage, or backups of large amounts of data.


CRU TrayFree™ bays make adding drives effortless: simply open a drive bay door, slide the drive in, and close the door. No screws, no trays, no tools. The rugged TrayFree bays are rated for over 25,000 insertion cycles.

The RTX800-TR tower supports RAID levels 0, 1, 5, 6, and 10 in hardware, with easy configuration using ATTO Technology's RAID management software.

Dual Thunderbolt interfaces allow the fastest connection to your Mac or PC host, at rates up to 10 Gbps in both directions and at the same time. This kind of performance can transfer an 8GB file in a few seconds or back up 1TB of content in approximately 20 minutes.
Specifications
Product name
RTX800-TR
Host (I/O) Ports
Drive Types Supported
SATA Speed
6G
RAID
Yes
RAID Info
Provides RAID Levels 0, 1, 5, 6 & 10
Number of LEDs
16
LEDs on each bay
Power and drive access for each bay
Navigation menu
Software utility
Operating system compatibility
Windows XP or later
Windows Server 2003 or later
Mac OS X
Most modern Linux distributions

Number of bays
8
Handle
Yes
Fan(s)
Dual 8cm magnetic levitation fans
Construction material(s)
Metal chassis and handle, ABS bay doors
Power switch
2 position: On / Off
Dimensions
10.63″ x 6.97″ x 14.17″ (270mm x 177mm x 360mm)
Weight
21.85 lbs. (9.91 kg)
Populated Weight
33.85 lbs. (15.35 kg)
Compliancy
FCC, CE, RoHS, RCM
Warranty
CRU provides a 3-year limited warranty for this product.
Technical Support
Your investment in CRU products is backed up by our free technical support for the lifetime of the product. If you need to contact us for any reason, visit cru-inc.com/support or call us at 1-800-260-9800 or +1-360-816-1800.
Documentation
Part Numbers
RTX800-TR
| | | | |
| --- | --- | --- | --- |
| Part Number | Description | Shipping Weight | UPC Number |
| 35700-1430-0100 | RTX800-TR, 8-bay Thunderbolt RAID subsystem, 0TB (user configurable; accepts SAS or SATA drives), US power plug | 28 | 673825421598 |
| 35701-1430-0100 | RTX800-TR, 8-bay Thunderbolt RAID subsystem, 0TB (user configurable; accepts SAS or SATA drives), UK power plug | 28 | 673825421604 |
| 35702-1430-0100 | RTX800-TR, 8-bay Thunderbolt RAID subsystem, 0TB (user configurable; accepts SAS or SATA drives), EU power plug | 28 | 673825421611 |
| 35703-1430-0100 | RTX800-TR, 8-bay Thunderbolt RAID subsystem, 0TB (user configurable; accepts SAS or SATA drives), AUS plug | 28 | 673825421628 |
| 35700-1436-2400 | RTX800-TR, Thunderbolt RAID subsystem, 8 TrayFree bays, 16TB (8x2TB SATA), RAID 5, NTFS format, US power plug | 40 | 673825421970 |
| 35700-1436-3400 | RTX800-TR, Thunderbolt RAID subsystem, 8 TrayFree bays, 16TB (8x2TB SATA), RAID 5, HFS+ format, US power plug | 40 | 673825421987 |
| 35700-1438-2400 | RTX800-TR, Thunderbolt RAID subsystem, 8 TrayFree bays, 32TB (8x4TB SATA), RAID 5, NTFS format, US power plug | 40 | 673825421994 |
| 35700-1438-3400 | RTX800-TR, Thunderbolt RAID subsystem, 8 TrayFree bays, 32TB (8x4TB SATA), RAID 5, HFS+ format, US power plug | 40 | 673825422007 |
---
RTX800-TR
Big data, big throughput
---
RTX220-3QR
USB 3.0 for faster workflow
---
Forensic RTX
Portable write-blocked access to SATA or PATA drives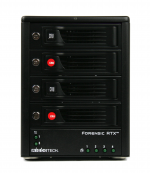 ---