UltraDock v4
Professional drive write-blocker gives fast access to bare hard drives
Efficient hard drive management
Quick access to any bare hard drive
Convenient drive information
UltraDock v4
---
This product is discontinued
UltraDock v4 has been discontinued.
For a current similar product, we recommend:
UltraDock v5
---
Need to get a new user up and running quickly? Or how about diagnosing that hard drive that won't spin up?
CRU® WiebeTech® products, such as the WiebeTech UltraDock™ v4, are used by IT managers and departments to efficiently manage hard drive and computer tasks.
The WiebeTech UltraDock v4 connects to any bare hard drive—IDE/PATA, SATA, or other types with optional adapters—to access, read, set up, diagnose, or repair it. An intuitive LCD and menu makes it convenient to view drive information and perform tasks. You can even detect, remove, create, or modify Host Protected Areas (HPAs) and Device Configuration Overlays (DCOs).
The UltraDock v4 puts drive information at your fingertips. Quickly access selected important SMART data such as hours used, number of power cycles, and disk health. It can also display the model and serial number reported by the drive's firmware.
The UltraDock v4 has USB 2.0, eSATA, FireWire 400, and FireWire 800 connections. But if you need to work with a non-standard drive, or encrypt one, there are a variety of adapters available for additional flexibility.
Additional features:
Multiple computer connection types
Rugged aluminum construction
3-year warranty
Free US-based customer support
Whether you're an IT manager, technician, or hobbyist, the CRU WiebeTech UltraDock v4 is a necessary part of your toolkit. Find a reseller near you or buy online.
Specifications
Product name
UltraDock v4
Host (I/O) Ports
FireWire 400: up to 400 Mbps
(1) pair of FireWire 800: up to 800 Mbps
(1) eSATA: up to 3 Gbps

Drive Types Supported

PATA/IDE 2.5" drives (with PATA Adapter 25)
PATA/IDE 3.5
Hitachi 1.8" drives (with PATA Adapter 18-HIT-ZIF)
Toshiba 1.8" drives (with PATA Adapter 18-TOSH)
Compact Flash (with PATA Adapter MCB)
SD Card (with PATA Adapter MCB)
Memory Stick (with PATA Adapter MCB)
PCMCIA (with PATA Adapter MCB)
MacBook Air 2010 (with SATA Adapter MBA2010)
MSATA (with SATA Adapter mSATA)
MC (with PATA Adapter MCB)
DOM (with PATA Adapter DOM)
PCIe PATA (with PATA Adapter mPCIe)
PCIe SATA (with PATA Adapter mPCIe)
Micro Drives (with PATA Adapter MCB)
PCIe USB (with PATA Adapter mPCIe)

SATA Speed
3G
Number of LEDs
7
Description of LEDs
Drive access, USB attached, FireWire attached, DC power input, Molex power input, +5V power output, +12V power output
Operating system compatibility
Windows XP or later
Windows Server 2003 or later
Mac OS X
Linux distributions that support the desired connection

Construction material(s)
Rugged aluminum construction
Power switch
2 position: On / Off
Molex Power Input
Yes
Dimensions
2.87" x 4.25" x 0.91" (73mm x 108mm x 23mm)
Weight
0.30 lbs. (0.14 kg)
Compliancy
FCC, CE, RoHS
Warranty
CRU provides a 3-year limited warranty for this product.
Technical Support
Your investment in CRU products is backed up by our free technical support for the lifetime of the product. If you need to contact us for any reason, visit cru-inc.com/support or call us at 1-800-260-9800 or +1-360-816-1800.
Product Images
UltraDock v4
UltraDock Front
Documentation
This product is discontinued
UltraDock v4 has been discontinued.
For a current similar product, we recommend:
UltraDock v5
---
ToughTech m3
Hard drive or SSD for work on the go
---
RTX220-3QR
USB 3.0 for faster workflow
---
Forensic RTX
Portable write-blocked access to SATA or PATA drives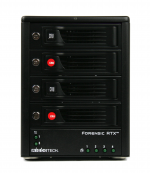 ---