RTX220-3QR
Portable two-bay RAID storage enclosure with high-speed USB 3.0
Powerful RAID engine for speed and data security
Multiple connection types including USB 3.0
TrayFree bays for fast drive swaps
RTX220-3QR
The RTX 220-3QR hard drive enclosure brings ease of use and flexibility to portable RAID storage.

The state-of-the-art hardware RAID controller built into the RTX 220-3QR offers RAID 1 (stripe) and RAID 0 (mirror) configuration options. If you're going to carry RTX 220-3QR wherever you go, rest assured it will connect to most computers. With four different connection options (USB 2.0, USB 3.0, FireWire 800, and eSATA), you'll be ready for whatever you encounter and will be able to transfer data at speeds of 150+ MB/s (depending on drives and connection type).
TrayFree bays make adding or swapping drives effortless. It's as easy as opening the door, sliding the drive in, and closing the door. No screws, no trays. It just works.

Additional features:
Support for any capacity 3.5" SATA hard drive
3-year limited warranty
Free tech support by phone or email
Anyone who needs a robust RAID enclosure with USB 3.0 for 3.5-inch hard drives will find the RTX220-3QR a reliable device.
Specifications
Product name
RTX220-3QR
Host (I/O) Ports
(1) pair of FireWire 800: up to 800 Mbps
(1) USB 3.0: up to 5 Gbps
(1) eSATA: up to 3 Gbps

Drive Types Supported
SATA Speed
3G
Bay Type
TrayFree
Insertion Rating
up to 50,000 drive insertions
Number of bays
2
Lockable Bays
Yes
Supports S.M.A.R.T. disk info
Yes
RAID
Yes
RAID Info
RAID 0 (stripe), 1 (mirror)
Number of LEDs
7
Description of LEDs
System power, system status, and RAID status
LEDs on each bay
Power and drive access for each bay
Audible alarm
Yes
LCD Screen
Two-line backlit LCD controlled with four soft-touch menu navigation buttons
LCD Info
2 lines x 16 characters width
LCD Backlight
Yes
Navigation menu
LCD/button driven menu system
Operating system compatibility
Windows XP or later
Windows Server 2003 or later
Mac OS X
Linux distributions that support the desired connection

Handle
Yes
Fan(s)
6cm magnetic levitation fan
Construction material(s)
Metal chassis and bay doors, ABS handle
Power switch
2 position: On / Off
Dimensions
10.94" x 6.85" x 6.30" (278mm x 174mm x 160mm)
Weight
8.50 lbs. (3.86 kg)
Populated Weight
11.50 lbs. (5.22 kg)
Compliancy
FCC, CE, RoHS
Warranty
CRU provides a 3-year limited warranty for this product.
Technical Support
Your investment in CRU products is backed up by our free technical support for the lifetime of the product. If you need to contact us for any reason, visit cru-inc.com/support or call us at 1-800-260-9800 or +1-360-816-1800.
Product Images
RTX™ 220-3QR
RTX100-INT black tray
RTX™ 220-3QR Back
Documentation
Part Numbers
RTX220-3QR
| | | | |
| --- | --- | --- | --- |
| Part Number | Description | Shipping Weight | UPC Number |
| 35220-3130-0100 | RTX220-3QR, 2-bay TrayFree drive enclosure, RAID 0/1, USB3/eSATA/FW800, 0TB (accepts SATA drives), US plug | 14 | 673825421826 |
| 35221-3130-0100 | RTX220-3QR, 2-bay TrayFree drive enclosure, RAID 0/1, USB3/eSATA/FW800, 0TB (accepts SATA drives), UK plug | 14 | 673825422014 |
| 35222-3130-0100 | RTX220-3QR, 2-bay TrayFree drive enclosure, RAID 0/1, USB3/eSATA/FW800, 0TB (accepts SATA drives), EU plug | 14 | 673825422021 |
| 35223-3130-0100 | RTX220-3QR, 2-bay TrayFree drive enclosure, RAID 0/1, USB3/eSATA/FW800, 0TB (accepts SATA drives), AUS plug | 14 | 673825422038 |
| 35220-3136-2200 | RTX220-3QR, 2-bay TrayFree drive enclosure, USB3/eSATA, 4TB (2x2TB), RAID 1, NTFS format, US plug | 17 | 673825422045 |
| 35220-3136-3200 | RTX220-3QR, 2-bay TrayFree drive enclosure, USB3/eSATA, 4TB (2x2TB), RAID 1, HFS+ format, US plug | 17 | 673825422052 |
| 35220-3138-2200 | RTX220-3QR, 2-bay TrayFree drive enclosure, USB3/eSATA, 8TB (2x4TB), RAID 1, NTFS format, US plug | 17 | 673825422069 |
| 35220-3138-3200 | RTX220-3QR, 2-bay TrayFree drive enclosure, USB3/eSATA, 8TB (2x4TB), RAID 1, HFS+ format, US plug | 17 | 673825422076 |
---
RTX800-TR
Big data, big throughput
---
RTX220-3QR
USB 3.0 for faster workflow
---
Forensic RTX
Portable write-blocked access to SATA or PATA drives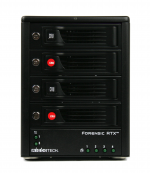 ---