Configure your product
A growing number of our products have extended configuration options through software. If a product supports it, CRU Configurator 3.5 allows you to:
View information about the firmware on a product
Control thresholds for temperature activated fans and alarms
Configure RAID through a software panel
Configurator automatically detects any supporting devices, and will offer only the choices that work with your product.
Firmware information
Supporting products: Many current docks and enclosures
The Details tab lets you view information about the device firmware.
Fan & Alarm configuration
Supporting product: RTX220-QR
We received a request from a customer who was using solid state drives in the desert, and they wanted an enclosure that would allow them to set alarms for their very high temperature range. In the oposite extreme, some users are very worried about heat and want to be notified much sooner than the average user. We realized we could make everyone happy by providing the means to specify which alarms/warnings occur, and at what temperatures.
RAID Configuration
Supporting product: RTX400-QR
Set RAID types and configure other RAID options.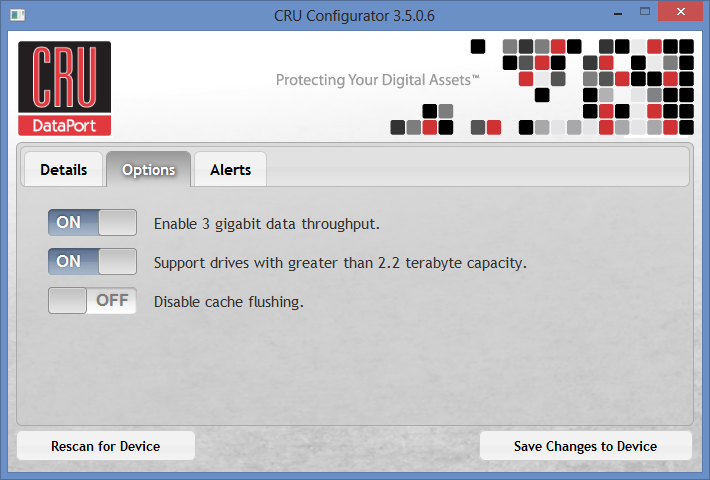 Version 2 – legacy version for older products
Older Docks using Oxford bridges 911+, 912, 922, and 924 use version 2 for configuring options such as UDMA.
Version 3 - Current products use version 3. These include products that use newer Oxford chipsets 934, 936DS, 936QSE, and 944SE.
Configurator v3 User Manual
Configurator v3.1 Software - For Intel Mac OS X 10.5 or 10.6
Configurator v3.5.0.6 – For 32-bit and 64-bit versions of Windows